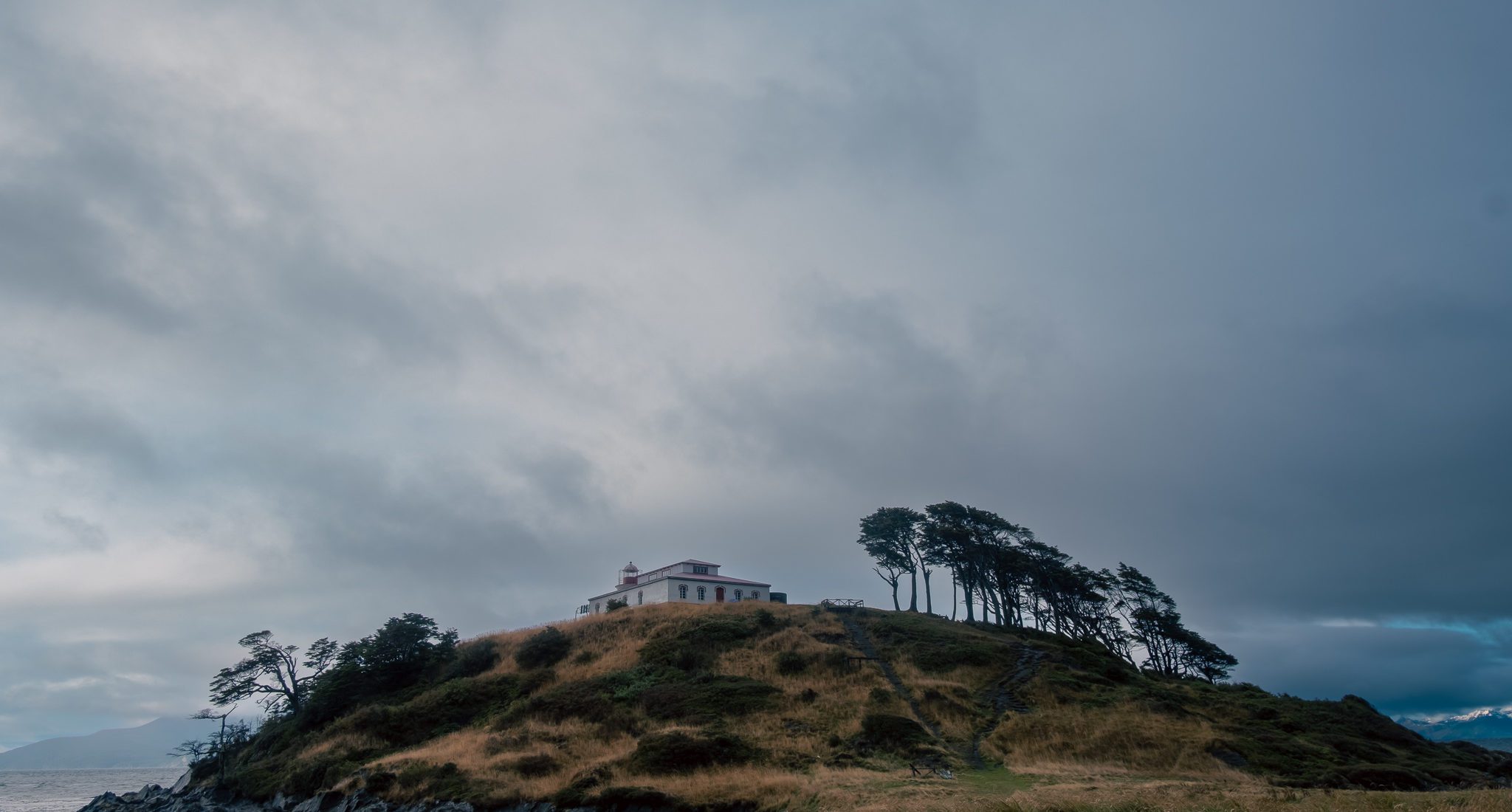 San Isidro Lighthouse
Punta Arenas, Península de Brunswick
It has been guiding the navigation of one of the most dangerous seas in the world for over 100 years. It was built 10 miles south of a point where the first outposts of Spanish conquistadors were established during the XVI century. Accessed by trekking, you can see the shores of the strait with the Darwin Mountain Range in the background, as well as enter the humid Patagonian forests, for about 2 hours of the trail. Some 8 meters high, its imposing presence makes it a solid refuge from the inclement wind of this location. 
Featured in San Isidro Lighthouse
Located at the southern tip of the Brunswick Peninsula, specifically 75 kilometers south of Punta Arenas. This location is nestled in an environment that combines several elements that make it a true Patagonian landscape.
Location
Location type

Coast, coastal roads, historical, bay, forests, mountains

Road type

The main access road is Route 9, which a few kilometers after Fuerte Bulnes enters a dense forest and then borders the Strait of Magellan, continuing literally to the end of Route 9 (gravel road), after which there are two options: a sea route by speedboat that takes about 15 minutes to reach the lighthouse bay or the option of a 4-hour round trip trek.

**If you decide to go trekking, we don't want you to get lost, download the route for your iwatch here!
Filming Feasibility
Challenging

Depending on the burden of the project, where light crews in human and technical aspects will be more favored, as there are space limitations to reach the site, with the boats only carrying 10 people. For projects with larger budgets and that require moving equipment and more crew, there are options of chartering catamaran-type boats that could transport larger groups.
Distance from Santiago
Option 1

3 hrs flight, 30 minutes from Punta Arenas, 1 hour boat journey and 2 hour walk, Intermediate level.
Península de Brunswick, Magallanes
-53.78514, -70.97522
Climate
Months of more light

Between November and April between 17 and 12 hrs daylight

Months of less light

Between June and August 7 hrs

Month of highest elevation of the sun

Month of lowest elevation of the sun

Warmer months

January and February between 14C and 7ºC

Rainy month

Coldest month

Característica
Hospitality
Hoteleria local

Distance to location

There is an inn that opens occasionally on the site,

Base camp option

Yes
Tips
Clothing

Windbreaker and waterproof warm clothing.

Footwear

Trekking shoes (hard boots, not sneakers), gorotex, gaiters

UV Protection

Always

Physical condition

Easy
Recommended rolling size
Small 5 to 15

Recommended

Medium 20 to 50

Challenging

Large 50 to 200

Difficult